I have been
ruminating
about what to blog on. I feel the desire to write and yet no inspiration or direction.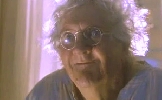 Sometimes I feel like Tootles in Hook where he see's that it's snowing and slams the door. I know I have been very anti-snow this winter and I am sorry to those of you who enjoy it or are sick of hearing me
gripe
. In my defense: you don't HAVE to read my blog :) Needless to say- it's snowing again.
In other news: 5 things about me you never knew you never knew:
1- I got my head stuck in a sliding glass door. I was 18. Betcha didn't know that was possible eh? What can I say? It's a gift.
2- The only 4 colors my bedrooms have ever been are: Pink, Purple, Yellow and of course White. I am looking forward to exploring new colors some day.
3- I want to learn how to
free-motion
quilt. I think I need to upgrade machines to be able to do that though...hmm.
4- I have always been drawn to stories about cancer. As a pre-teen I loved to read
Lurlene McDaniel's
books. I am still profoundly touched by stories of cancer victims and survivors. I participated in
Relay for Life
a couple of times at home and then when I went to college that was a defining moment for me when I could choose to do it on my own whether I got any friends to go with me or not. (I got my RA and two other girls to go with me)
5- I like using a power sander. (In Tim the Toolman Taylor's voice) Oh Oh Oh! More power! It makes sanding anything so much faster and worth doing. It was fun to try it in Cedar where the wind always blows.